Yesterday, we had a date night, and over dinner, we thought "Wouldn't it be nice to watch Contact? Neither of us have seen it since it came out, almost 20 years ago."
First, we opened up Netflix, and searched for 'Contact'. It wasn't available there, but Netflix said it could show us movies similar to it. (It also showed us 'Star Trek: First Contact" as an option, more on that later.)
So, we try iTunes. We're trying it on my computer, because S's Mac has mysteriously stopped talking to our USB speakers. Fast-forwarding through the standard iTunes bad user experience[1], we eventually figure out how to rent 'Contact', the movie, in HD for $4.99. It starts downloading. We hook up the projector, start the movie, and we see the following screen: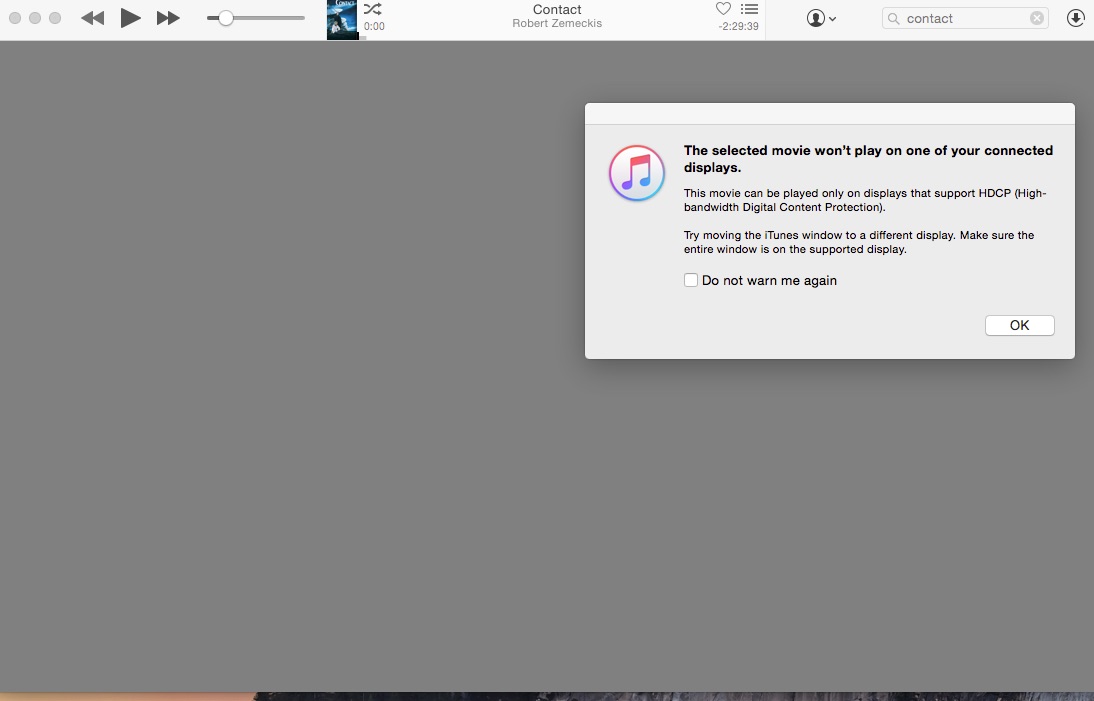 The movie that we just paid money to rent will not play on a display that iTunes was more than happy to play on just a couple of years ago.
Think about what just happened here. We went to the extra effort of purchasing a movie rental, and it is treating us like we're trying to pirate it.
Doing some quick googling, we determine that we might be able to get the SD version to work with our setup, but iTunes won't let us change from HD to SD (and keeps trying to download the HD version, despite the fact that this will overfill the hard drive).
So, back to Netflix. We eventually settle on Firefly (a really interesting concept, more on this in a later post). Netflix just works.
Or at least Netflix tries to work. Somewhere during this process, my Mac has silently decided that it should no longer talk to the USB speakers. There being no useful way to debug this in the 'System Preferences' menu, we end up lugging my sound system from my computer, which has a headphone jack connector like so: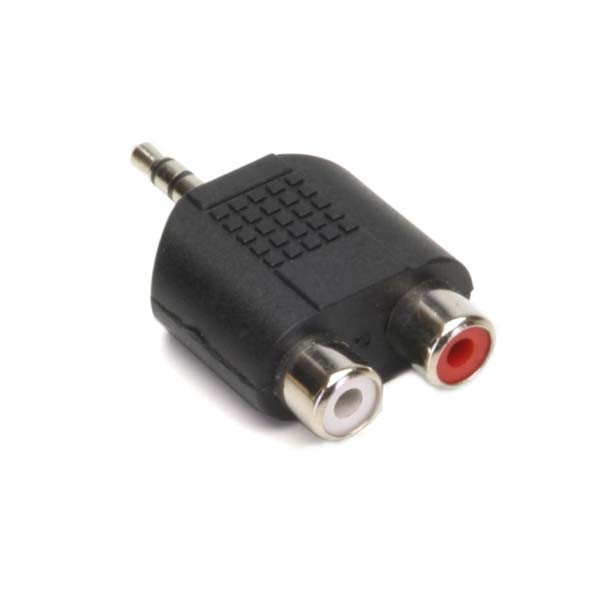 The headphone jack connect works. We finally start to relax, I start watching Firefly for the first time, then we watch the masterpiece which is Star Trek: First Contact, and go to sleep happy.
Apple has a lot of power, through its massive market share and avid user base. This power can be used for good, such as when it is used to push for selling DRM-free music, but it can also be used for evil, such as when Apple Music deletes music that you have composed.
With the iPhone 7, Apple is using this power to no longer include a standard headphone jack. Now all music, audio, Stripe payments, what have you, will be streamed digitally. It will probably work, it might even work perfectly and for a long time. But at some point, someone will decide to add DRM to that stream, and all of a sudden your music will stop working.
All because Apple decided to remove your headphone jack.
Cory Doctorow also has some thoughts about this.
[1]iTunes standard bad experience:
– You have to search twice in the search bar for it to actually search
– The search function has a pre-defined list of types of media, and it will always show them to you in that order. Compare with the Google search for 'Contact'.
– If you start downloading a rented HD movie, you can't switch to the SD version, even if you realize you don't have enough hard drive space, or the HD movie won't play because of the HDCP DRM.
– And don't get me started on how slow it always is.