So, we were experimenting with stir-fry composition, and happened upon a new favourite: Sriracha & (Rosemary) Potato.
It goes as follows:
Total preparation and cooking time: 25-30 mins.
Serves 2.
Recommended music: https://www.youtube.com/watch?v=UkSr9Lw5Gm8
(Because cooking is very much like building things.)
Equipment required:
– Some sort of stove
– Some sort of frying pan
– Some sort of stirring/spatuling instrument
Ingredients required:
– Some sort of cooking oil (we've been using grape oil, which is actually super-tasty)
– Two medium potatoes
– One medium onion (I prefer yellow) or 1/2 bunch of green onion
– Three half peppers
– Two cloves of garlic
– Sriracha sauce
– Some sort of soy sauce (we used Kikkoman low sodium)
– Rosemary (cf. Rosemary Potatoes)
– Some sort of herbs/spices (we used Oregano & Basil)
Pairs well with rice & greek salad, as seen here: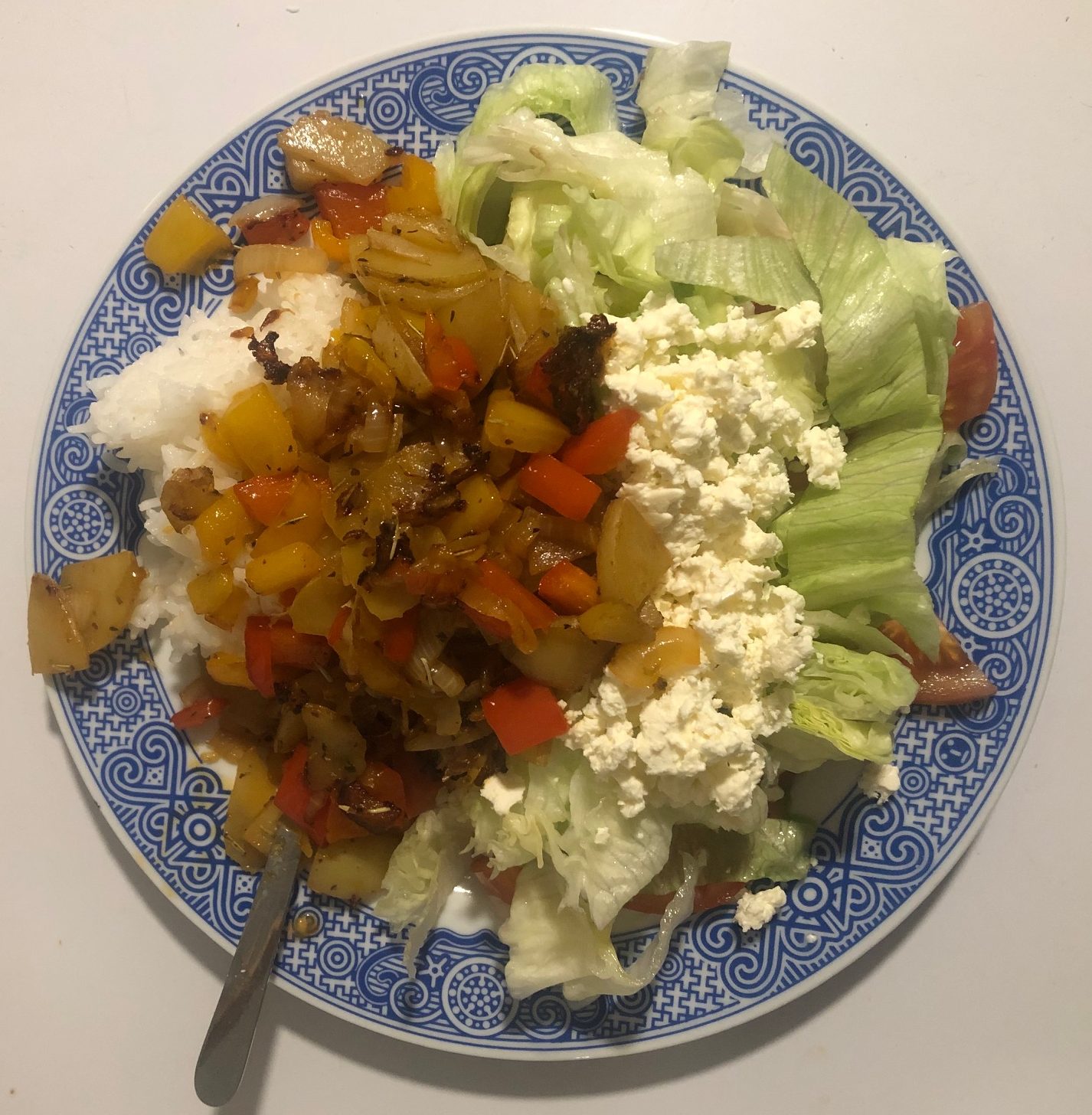 Directions:
– Turn on the stove to medium-low (I do 3/10 on our stove's large burner, with both parts of the burner turned on)
–
– Thin-slice the potatoes, and cut these slices in four (I cut the potatoes in half, cut them into thin slices, and then put the pile on the cutting board, and cut again in four.)
– Add the potatoes and some cooking oil to the frying pan.
– You are going to want to stir on a regular basis. Potatoes are frying pan-sticky
– If you're using a medium/cooking onion (not green onion), chop up the medium onion and add it to the frying pan. (I top and tail the onion, remove the outer layer or two, then slice it, then chop the stack of slices in four or six. I usually rinse the onion before chopping, but that was not enough to protect me today.)
– Chop up the garlic and add it to the mix (I do garlic the same way I do onions, top & tail ,then remove outer layer, and then slice, then cut stack of slices in two or four.)
– You may need or want to add a little more cooking oil, to prevent burning or sticking.
– This is a good time to add the herbs (rosemary is the most important), and the sriracha & soy sauce. For the sriracha, enough to go back and forth in the frying pan a few times, and perhaps 3-5 splashes of soy sauce.
– Chop up the peppers (I chop three in half, so I can get red/orange/yellow, and save the other halves for tomorrow's meal). I wash them, remove the tops, rinse them, cut them in half, remove the bottom center part, then slice and then dice them. Throw them into the mix.
– You're still stirring, right?
– Keep stirring until the potatoes are soft enough that you want to eat them. Total elapsed time was about 30 mins today. (Total time yesterday was about 25 mins at a stove setting of 4/10, but I was worried about burning the mix throughout the entire process.)
Serves 2.