tl;dr: Get COVID as few times as you can. Getting COVID the second time is just as likely to kill or disable you as the first time. COVID killed more people in Canada in 2022 than 2020 or 2021, and is disabling many more in an ongoing way. Use masks and better-filtered air to get COVID as few times as you can, and if you do get it, rest up for as long as you can while recovering.
It's now been more than three years[1] years since COVID-19 entered the world stage, and it's worth a few minutes to take stock of what we know, where we are, and what we should be doing next.
What is COVID?
COVID is a contagious disease caused by the SARS-CoV-2 virus.
Acute symptoms vary widely, from respiratory such as cough, fever, shortness of breath, and congestion/sputum, to musculo-skeletal with muscle & joint pain, headache and fatigue, to gastro-intestinal with abdominal pain, vomiting and/or diarrhea. Neurological (separate from nasal congestion) loss of taste and smell is perhaps the most well-known distinctive COVID symptom, made famous by online reviews of scented candles.
These acute symptoms also include death, although the exact number is difficult to measure for a number of reasons[2]. The official 'Case Fatality Rate'[3] is generally measured to be around 1%, for example by the John Hopkins dashboard. Taking estimated numbers of non-tested and asymptomatic individuals into account, the actual overall 'Infection Fatality Rate' is generally calculated to be between 0.5-1% for 'wild type' virus. This rate is modified by age, risk factors, variant of interest (Alpha/Delta/Omicron/XBB1.5/etc), and vaccination status.
As I previously reported, based on a study from the University of Toronto, Case Fatality Rates are somewhere between 1.5x and 2x worse for Alpha/Beta/Gamma & Delta variants. Omicron, as I previously reported, is significantly more contagious, but about 0.2x as bad as wild type was in 2020, in the current vaccinated population. XBB1.5, the most recent 'Variant of Concern' seems to be replacing Omicron and other variants, but its fatality rate has not been well-measured yet.
In Canada, just over 50000 people have been confirmed to have died of COVID as of Jan 30/2023, representing about a 6% increase in total mortality. The overall death rate from March 2020 to August 2022 was measured to have increased by about an additional 1.6%, or 7.6%. This reduced life expectancy by 0.6 years, the largest single year decline since 1921.
This data from the CDC suggests that vaccination reduces the likelihood of death by about 5x, or about 13x with an up to date relevant (bivalent at time of writing) booster. One would expect this, along with Canada's vaccination rate of about 80% (and up to date booster rate of about 25%) to be reflected in the numbers above.
COVID is also known to have chronic effects, known as 'Long COVID'. 'Long COVID' is not yet well defined, and presents with a wide array of symptoms depending on the individual (Nature Paper).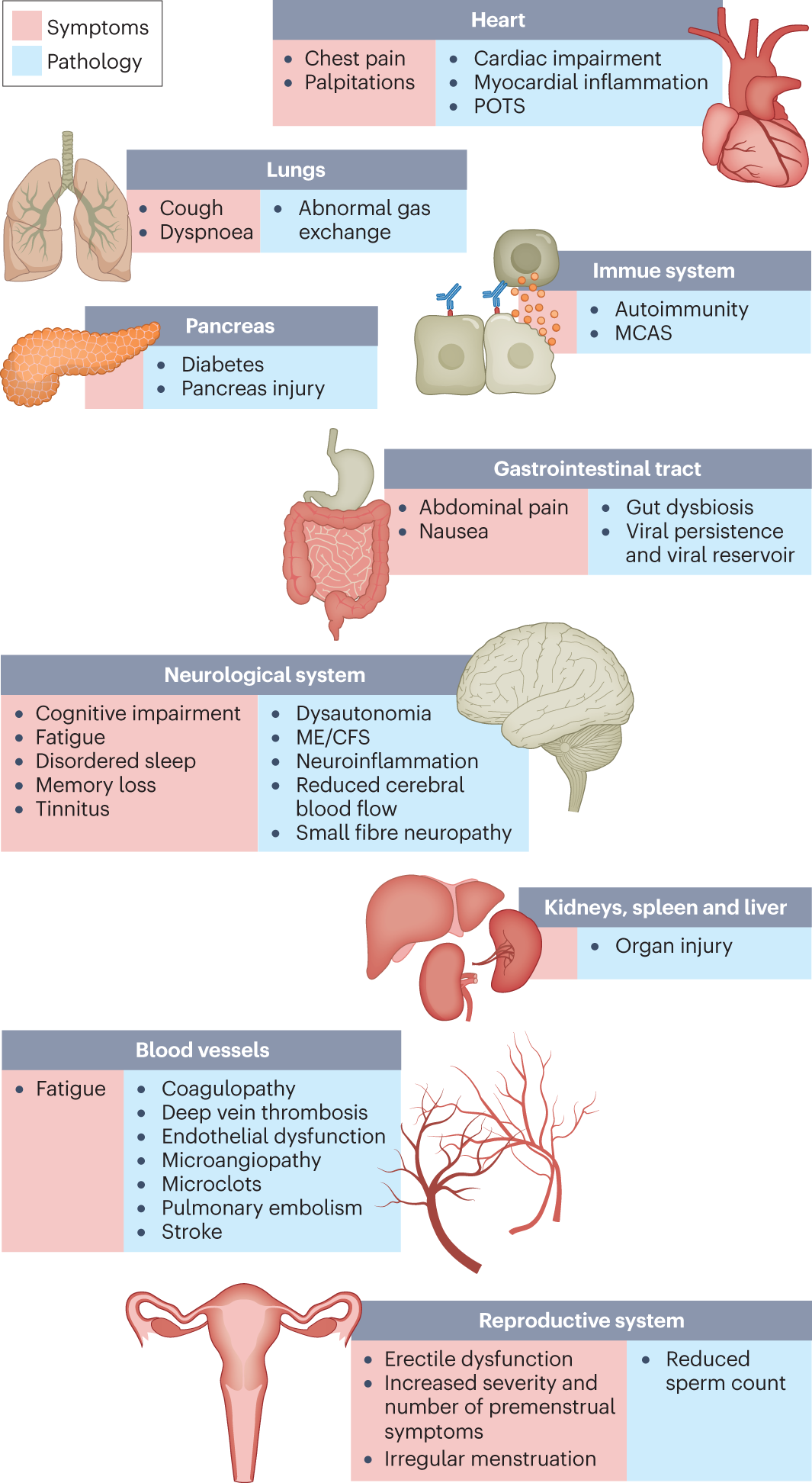 Whether well-defined or not, Long COVID is common, and is still debilitating for many. Estimates range from 10-12% Long COVID incidence for 'Break Through Infections' for vaccinated individuals to 10-30% for non-hospitalized cases to 50-70% for hospitalized cases.
The 'Brain Bank' study in the UK was lucky enough to have done brain scans before and after COVID infection, and it detected damage to areas of the brain associated with taste and smell, along with measurable cognitive impact, even when COVID cases which required hospitalization were excluded. This suggests that there is damage caused to parts of the brain even by 'mild' COVID cases: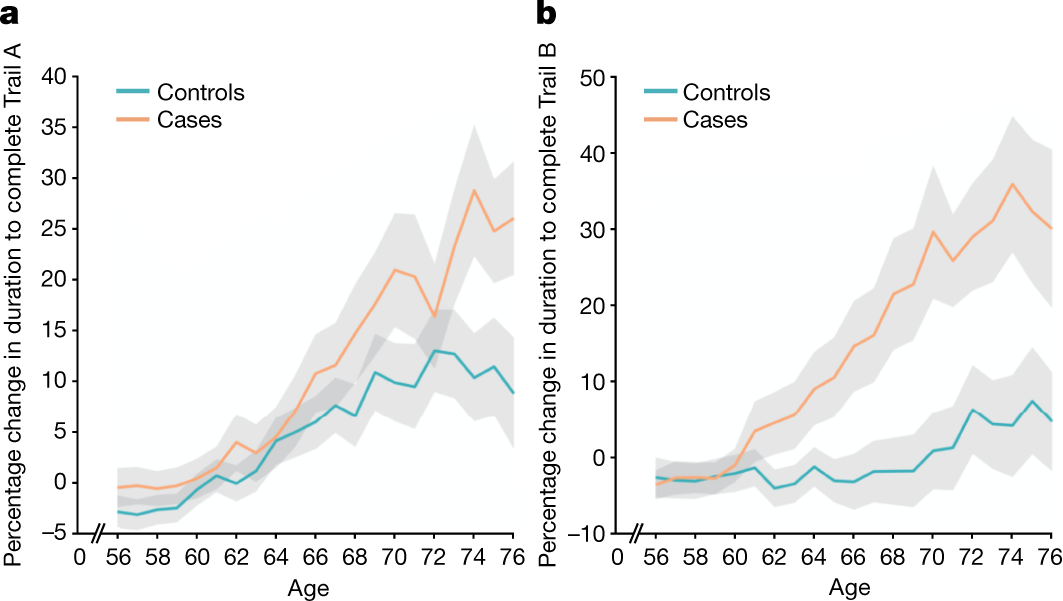 More concerning is this study, which shows that the second COVID infection is just as dangerous as the first. For example, 6 months post-reinfection, all-cause mortality doubled, hospitalization more than tripled, and the likelihood of Long COVID symptoms more than doubled.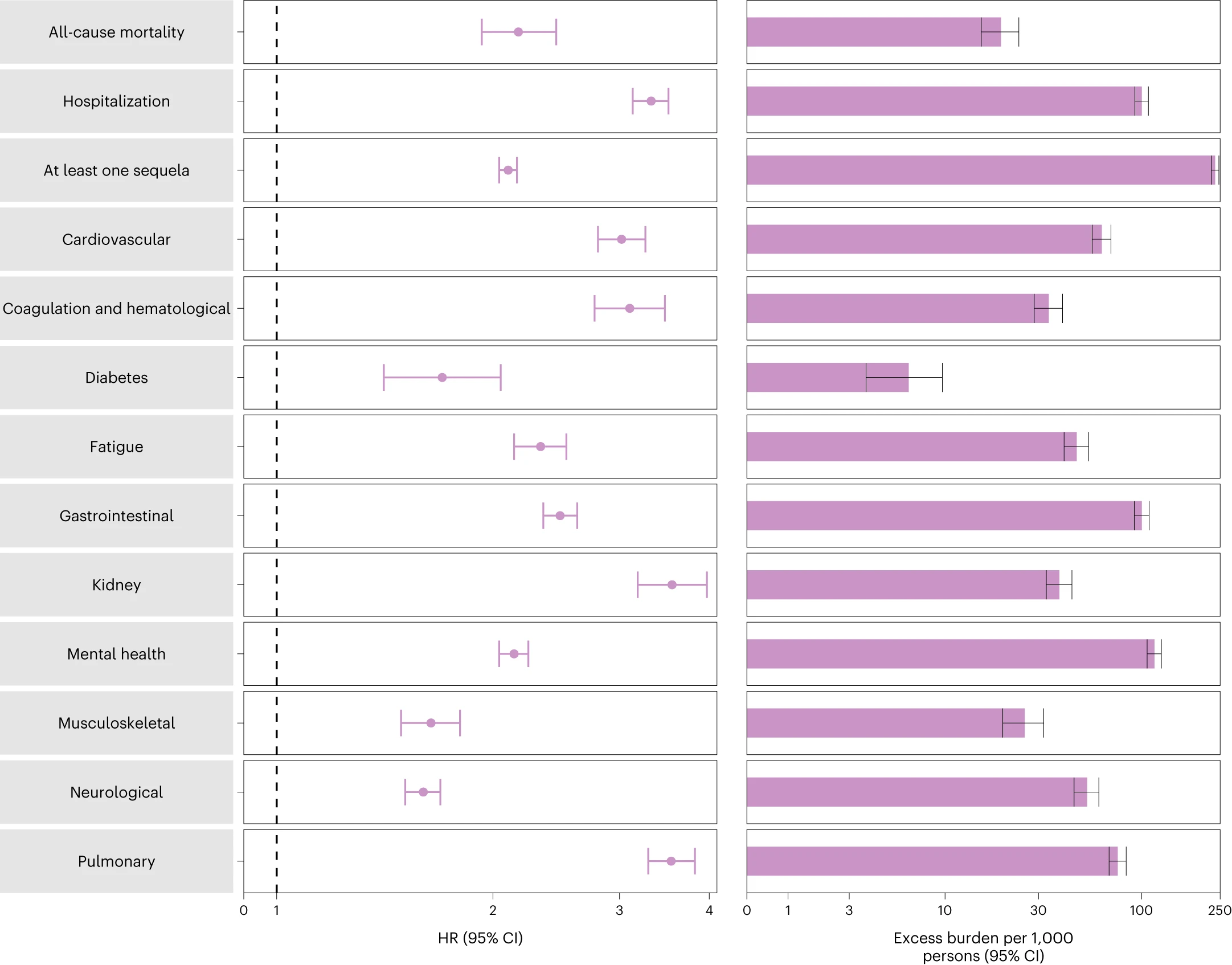 Also, while vaccination might help reduce your chance of catching COVID, vaccination status does not seem to substantially decrease your likelihood of developing Long COVID once you do.
So, knowing all of this, what should you do?
1) Get COVID as few times as you can. Each time you get COVID adds to the danger. Some people who seemed fine at first, developed life-altering and debilitating symptoms.
2) Protect yourself like a Billionaire; get and use HEPA filters, and use COVID tests if you must gather: At the Davos World Economic Forum this year, there were stringent and multi-layered anti-COVID precautions, including masking, improved ventilation and filtration, and mandatory testing with immediate revocation of access on positive test.
3) Get as good as mask as you can, and use it whenever you are inside with people. COVID is airborne, and the quality of your mask matters! An N95 is substantially better than a KN-95, which is substantially better than a surgical mask or cloth mask. We recommend this specific N95, as it has good reliable straps, and seems to fit us well. YMMV.


4) Rest! Long COVID seems to have many things in common with Chronic Fatigue Syndrome(ME/CFS). 'Pacing', or resting for longer than you might expect, to allow your body to heal has been shown to help in ME/CFS. Also, the data of the after-effects of COVID infection seem to show that the 'acute' phase of COVID doesn't fully pass until somewhere between 90-120 days (3-4 months) post-infection, whereupon people have settled into a new (often worse) 'normal':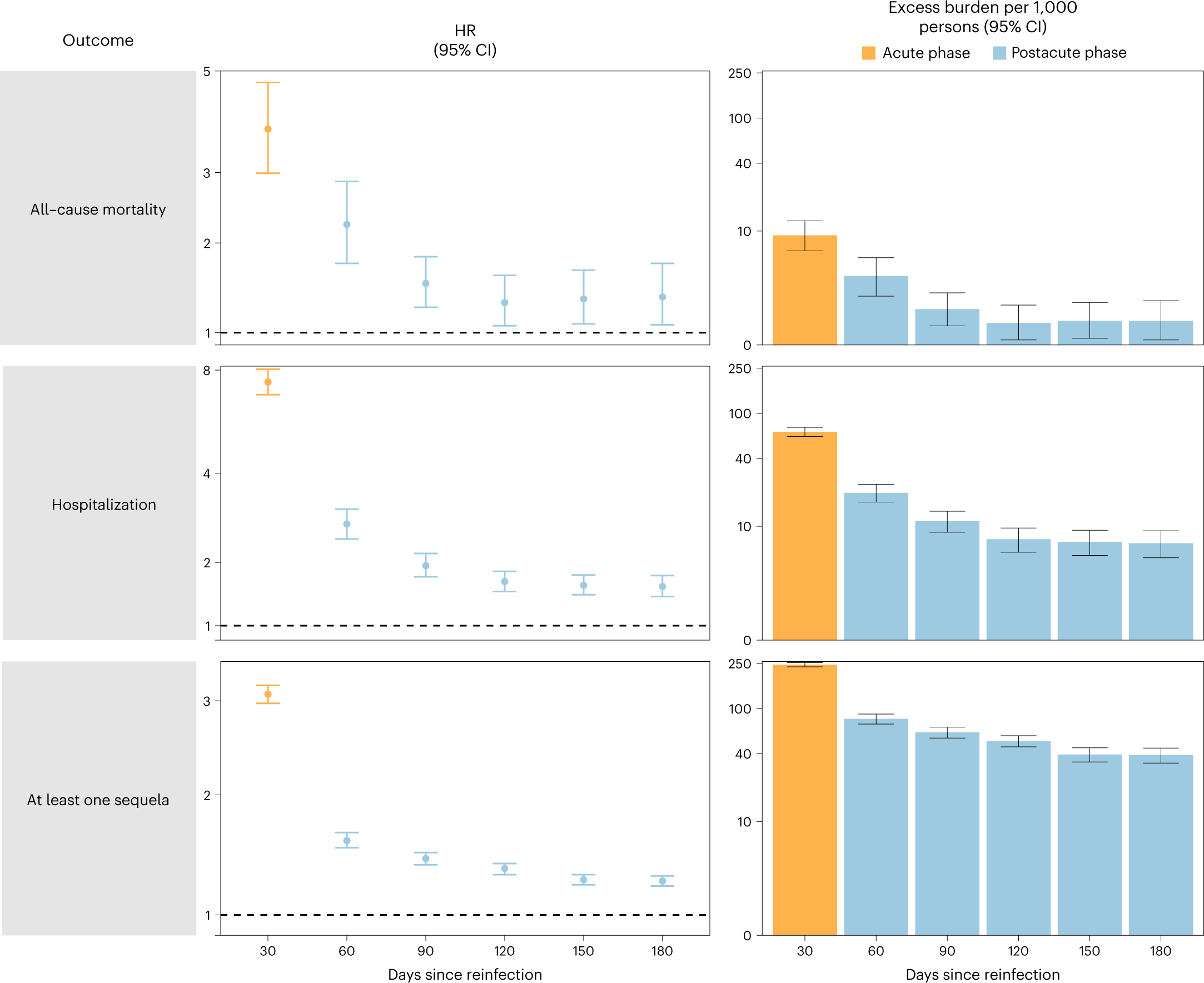 The end to COVID may still not be in sight yet, but we now have a lot more information about how to protect ourselves from it, and maybe, just maybe lighten the load on our overloaded and buckling healthcare system. It is possible to get back to the low case counts of mid-2021, we just need to work together and make sensible decisions. Stay safe out there.
References:
The best current review on Long COVID: "Long COVID: major findings, mechanisms and recommendations" in Nature Reviews Microbiology, Jan 13, 2023
The best current study on the dangers of reinfections: "Long COVID after breakthrough SARS-CoV-2 infection", Nature Medicine, 25 May 2022
Some quotes from the above two references:
"The organ damage experienced by patients with long COVID appears durable, and long-term effects remain unknown."
"Cognitive impairments in long COVID are debilitating, at the same magnitude as intoxication at the UK drink driving limit or 10 years of cognitive ageing73, and may increase over time, with one study finding occurrence in 16% of patients at 2 months after infection and 26% of patients at 12 months after infection74"
"Few people with long COVID demonstrate full recovery, with one study finding that 85% of patients who had symptoms 2 months after the initial infection reported symptoms 1 year after symptom onset143. Future prognosis is uncertain, although diagnoses of ME/CFS and dysautonomia are generally lifelong."
"The findings highlight the clinical consequences of reinfection and emphasize the importance of preventing reinfection by SARS-CoV-2."
Other references and links in-line
A final word from r/wallstreetbets and the Bureau of Labor Statistics: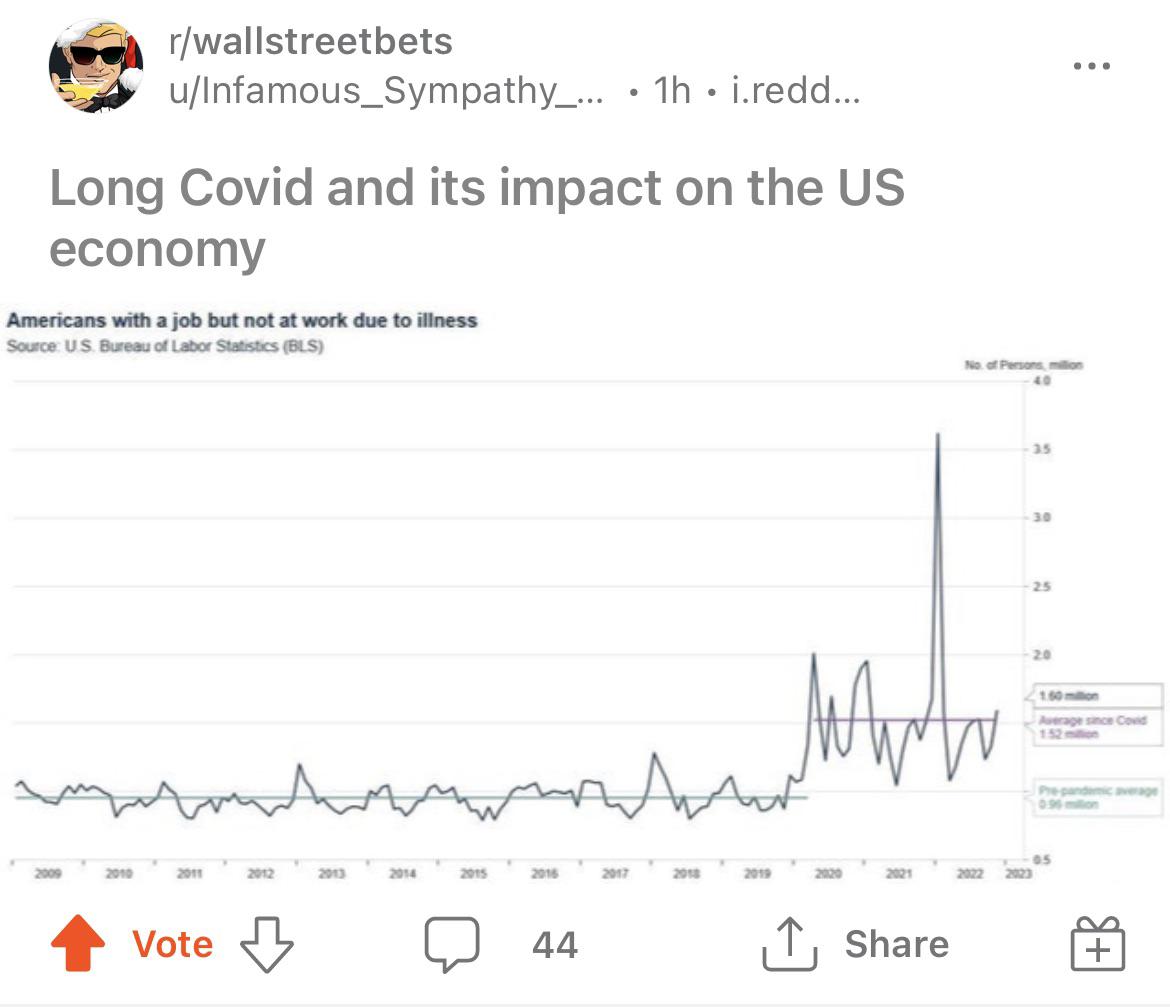 [1] First known case discovered in December 2019, hence the '-19'
[2] Reasons why the number of deaths from COVID is difficult to measure include undercounting for reasons such as due to delayed or incomplete reporting of deaths due to institutional overload, delayed annotation of cause of death, and the fact that 'coroners' are a profession with inconsistent regulations and training requirements. Overcounting can occur when a person would have died anyway, or COVID is counted as one of a group of causes of death for that person. For this reason, 'excess deaths' are typically used in case of pandemic or war.
[3] 'Case Fatality Rate' is generally measured as (# of deaths confirmed attributed to COVID)/(# of cases of COVID detected). Incorrect attribution of cause of death can move this number in either direction (although measuring 'excess deaths' can help), and reducing the level of testing can lead to this number being overstated (you can look at the 'test positivity rate' to get a sense of how under-tested the population is (or how bad the outbreak is)). 'Case Fatality Rate' is generally assumed to be an overstatement of the fatality rate, if there are a large number of undiagnosed cases in the population, which are taken into account in the probably more accurate 'Infection Fatality Rate'.