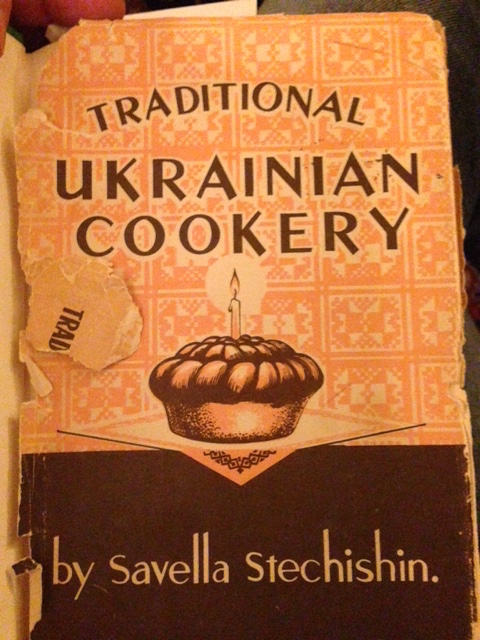 When I was about one year old, my family briefly moved to Ottawa. This turned out to be lucky, as it meant that my Baba wrote down all her recipes for my mom to take with her. This is my favourite, her amazing Cabbage Rolls, in her words:
Cabbage Rolls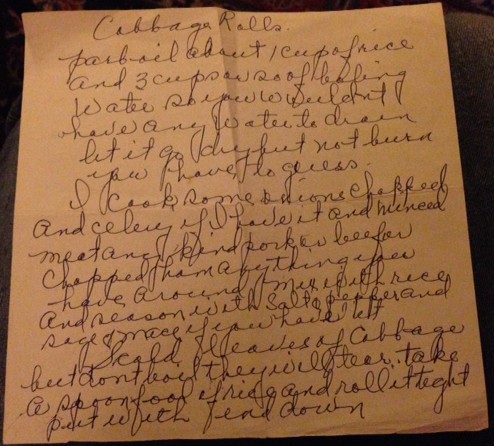 "
Parboil about 1 cup of rice and 3 cups or so of boiling water so you wouldn't have any water to drain. Let it go dry but not burn. You have to guess.
I cook some onions chopped and celery if I have it and minced[1] meat any kind pork or beef or chopped ham anything you have around. Mix it with rice and season with salt , pepper, and sage & mace if you have it.
Scald leaves of Cabbage, but don't boil; they will tear. Take a spoonful of rice and roll it tight. Put with end down.
"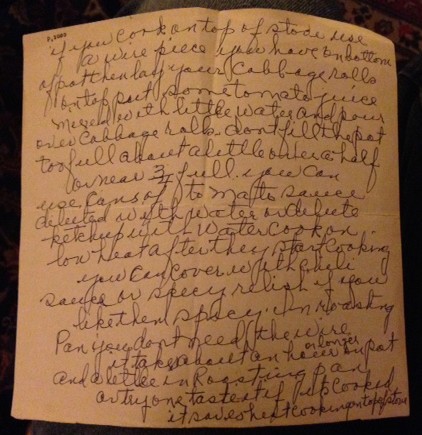 "
If you cook on top of stove, use a wire piece you have on bottom of pot[2] then lay your Cabbage rolls on top. Put some tomato juice mixed with little water and pour over Cabbage rolls . Don't fill the pot too full, about a little over a half or near 3/4 full. You can use cans of tomato sauce diluted with water or dilute ketchup with water. Cook on low heat. After they start cooking, you can cover with chili sauce or spicy relish if you like them spicy. In roasting pan you don't need the wire.
It takes about an hour or longer in pot, and a little [sic][3] in Roasting pan, or try one, taste it, if it's cooked, it saves heat cooking on top of stove[4].
"
Before transcribing this, I didn't know what 'Parboiling' was. Cool.
(All punctuation mine.)
[1]Having eaten these cabbage rolls many years ago, I OCR[5]'d these words to 'you need', as the meat makes a large part of the flavour (I remember hot dog bits being especially tasty). Looking at it again, I'm pretty sure it says 'minced' instead. Either works, as long as the meat is in small pieces. 😀
[2]I'm assuming this means some sort of pot insert, but I'll have to test to find out.
[3]Here, I'm assuming it should read 'a little longer', but I'll have to try cooking them to find out.
[4]I think this either means it saves heat to cook the Cabbage Rolls on top of the stove instead of in the oven, or (more likely) it means that once they're cooked, you can just keep them warm on top of the stove, which saves heat.
[5]With my eyes.