As part of our preparation for going back to Japan (and now that I've finally organized all of my pictures), I'll be revisiting our first trip there in 2012. Part of the goal is to help me re-learn Japanese, part is the fun memory lane trip.
We rejoin our intrepid travelers in Tokyo, by Shinjuku station. As they prepare to exit the station, they consult the map: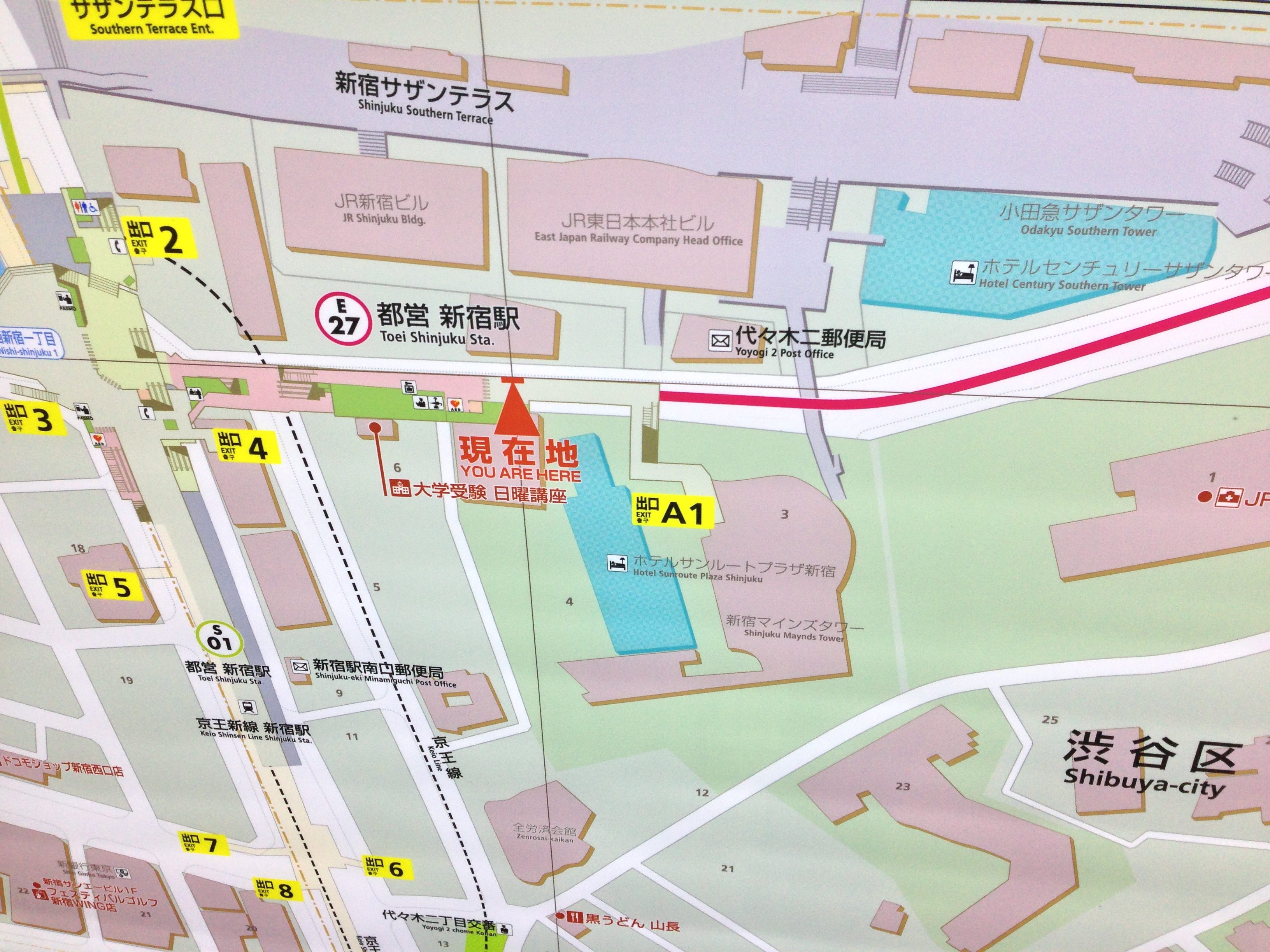 Just above the 'YOU ARE HERE' (literal translation 'present located-in ground/earth'[1]), you can see:
'E 27', the Shinjuku Station on the Toei Oedo line.
Note the two kanji which represent 'Shinjuku'[2], which would be useful for us to recognize later, which are also present on the next two captions going up:
'JR Shinjuku Bldg', literal translation 'JR Shinjuku BiRu'. Until now, I had no idea that 'BiRu' was the transliteration of 'Building'[3].
Moving on to 'Shinjuku Southern Terrace' (literal translation 'Shinjuku SeZeN TeRaSu'[4], which you get to through the 'Southern Terrace Entrance' ('SeZeN TeRaSu Opening'). Note that the last character is not the Katakana 'Ro', it is instead the Kanji 'KuChi', for opening[5].
Moving clockwise, we see the 'East Japan Railway Company Head Office', or 'JR East Sun origin main company BiRu'.
(Those of you who play Mahjong will likely recognize 'East' here. Also note that the second character in 'Japan' ('origin') takes a different meaning ('main') in 'Company Head Office'.)
Moving along, we see the 'Yoyogi 2 Post Office' or 'For generations old trees 2 Post Office'
(I likewise learned '2', or 'Ni' in this context from playing Mahjong. Note also that the 'yoyo' in 'Yoyogi' is an alternate of 'daidai', which presumably someone who grew up in Japan would know, but is perhaps non-trivial to someone trying to translate it.)
The 'Odakyu Southern Tower' 'Small Rice Field Hurry SeZeN TaWa-' seems to be part of the home of the Odakyu Electric Railway. (I'm not sure of the exact etymology of 'Odakyu'. My best guess is above.)
Continuing clockwise, we see our first name entirely in Katakana, the 'Hotel Century Southern Tower', or 'HoTeRu SeNChiyuRi- SeZen TaWa'.
We then see an 'Exit' sign, or 'Exit Opening'.
This takes us to one of the places that we stayed in Tokyo, the 'Hotel Sunroute Plaze Shinjuku' 'HoTeRu SeNRu-To PuRaZe Shinjuku', which shall forever be near and dear to our hearts. 🙂
This is right next to the 'Shinjuku Maynds Tower' 'Shinjuku MaINZu TaWa-', which seems to be a 34-story office building.
'Shibuya' 'reluctant valley ?' is surprisingly difficult to translate, as for some reason the handwriting recognition didn't recognize the third character 'district'
Moving down to the bottom, in red, you will see one of the most important set of words to recognize in Japan: 'Black UDoN Mountain Food'. (The operative words here are 'Udon' noodles and the Kanji for 'Food'. 🙂 )
The last one that I want to translate here is in the lower left-hand corner, in red: 'Shinjuku SeNE- BiRu 1F' 'FueSuTei BaRu GoRuFu' 'Shinjuku WING Store'. This seems to say (to me) that there's something on the first floor of this building, perhaps a bar and grill and store?
Katakana is often difficult to de-transliterate, as you often have no idea which language the words are loaned from. Perhaps someone in the comments can answer!
Next time, our intrepid heroes pause to ponder the immensity of Shinjuku station, where the large number of train tracks is just one part of a huge complex: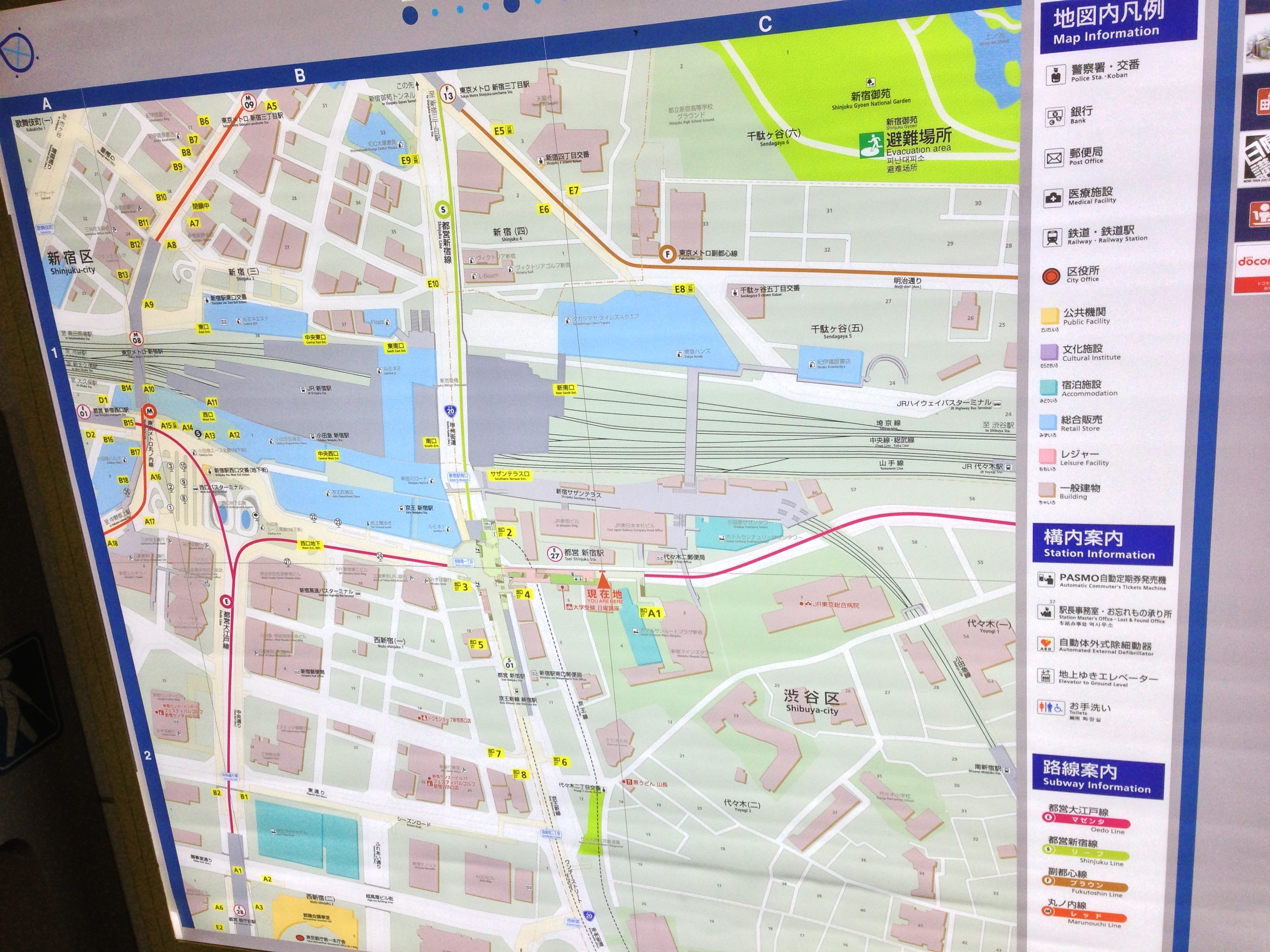 …and then continue on their journey. Stay tuned!
[1]Many thanks to the KanjuVG Project and Ben Bullock: http://kanji.sljfaq.org/ They were able to detect my poor drawings of kanji symbols on the first attempt, and their first suggestion was correct three out of three times (for the third symbol, I had to tell the program to ignore my stroke order)! If you're going to be working a lot with Kanji, it's worth learning the rules for stroke order.
[2]Interestingly, 'Shinjuku' means 'New Juku', or 'New Lodge'. Knowing this meaning of 'Shin' was to be helpful later.
[3]Not to be confused with 'Bi-Ru-', or 'Beer'.
[4]In these transliterations, I'm using a Katakana chart, and capitalizing the first letter of each syllable (including the syllable 'N', sometimes pronounced 'M' by our teacher).
[5]Interestingly, this is one of the few words I remembered from my 8 months of Mandarin back in the day, although only the meaning, not how to pronounce it.