Apparently, the new PM's office thinks it's:
– Recalls & Safety Alerts
– Weather
– Find A Job
– Write to the Troops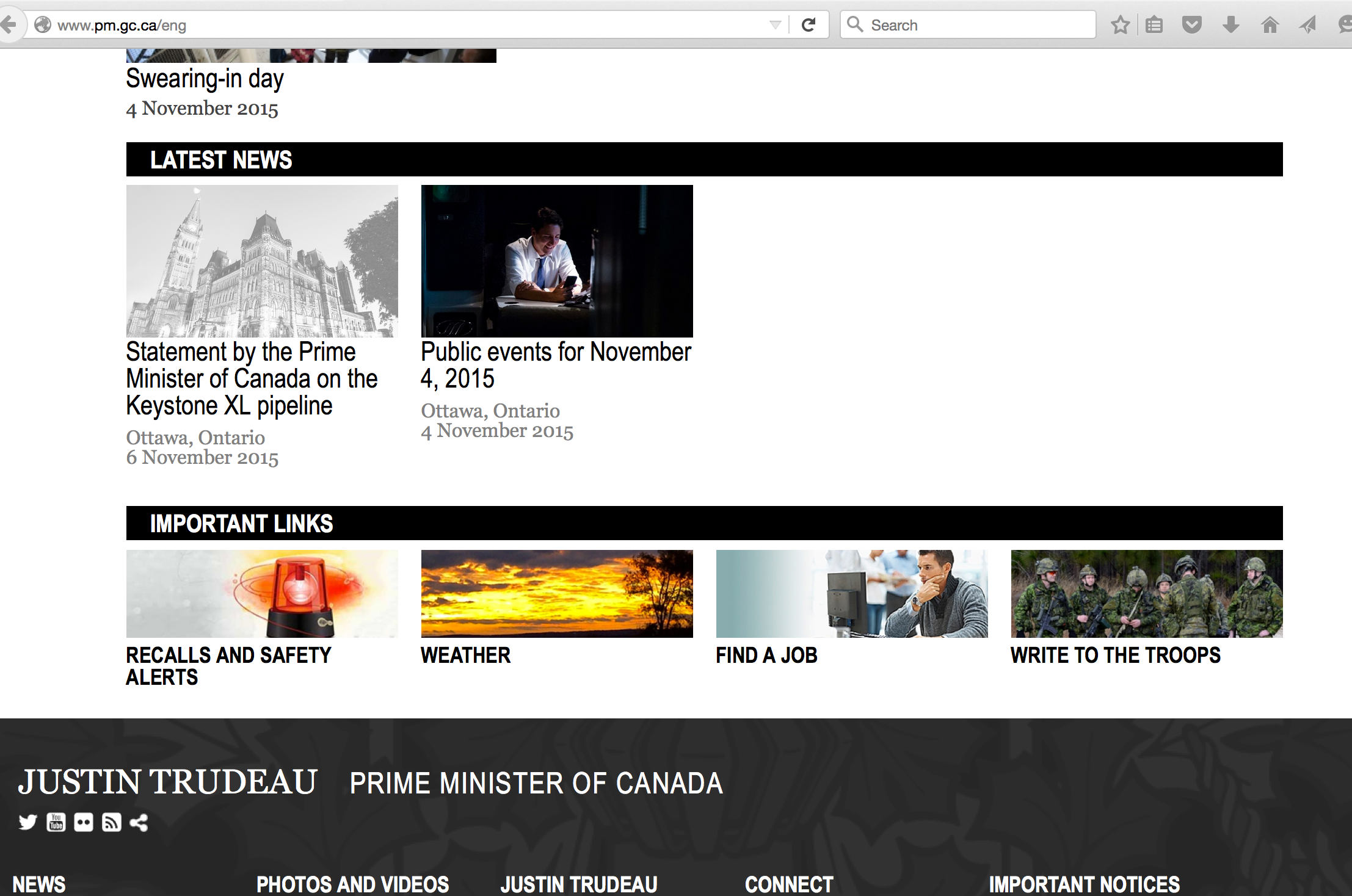 Which is actually probably not a bad top four, given what people care about and the time of year.
Digging a little deeper, I had no idea that there were Canadian soldiers involved in so many overseas missions:
http://www.forces.gc.ca/en/write-to-the-troops/mailing-instructions.page
OP CALUMET- Sinai, Egypte
OP CROCODILE – Democratic Republic of the Congo
OP FOUNDATION or IMPACT – Qatar
OP FOUNDATION (Bahrain)
OP FOUNDATION – Jordan
OP HAMLET – Port-au-Prince, Haïti
OP JADE – Middle East
OP KOBOLD – Pristina, Kosovo
OP PROTEUS – Jerusalem
OP SATURN and SOPRANO – Sudan
OP SNOWGOOSE – Cyprus
OP IMPACT – Kuwait
OP IMPACT – Baghdad, Iraq
Operational Support (OS) Detachment – Kuwait
CFS Alert – Alert, Nunavut, Canada
Canadian Ships
OP ADDENDA – Kabul, Afghanistan
OP REASSURANCE – Land Component
OP SIRONA (Sierra Leone)
OP UNIFIER (Ukraine)
It also seems to me that Justin Trudeau emphasizes his support and mention of Canadian Soldiers, perhaps to defray the (generally incorrect) notion that Conservative governments are better for the military. But perhaps this is just me being oversensitive.
"
"It's the responsibility of government not to put soldiers into harm's way except as a last resort, when it's absolutely necessary to do so," he said. "When we do send them into harm's way we have to ensure that we've done everything in our power to find other methods to reach our objectives."
"
http://www.nationalobserver.com/2015/11/04/opinion/you-have-no-idea-how-badass-trudeaus-defence-minister-really
http://www.pm.gc.ca/eng